Mixed Case: 8-pack, 7.5 oz. per package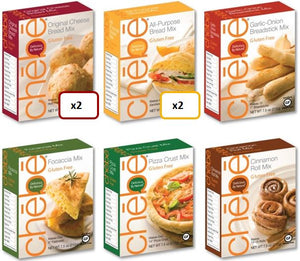 A sampler pack containing all of our gluten-free dry mixes and consists of 2 packages of Original Cheese Bread Mix, 2 packages of All-Purpose Bread Mix, 1 Package of Pizza Crust Mix, 1 package of Garlic-Onion Breadstick Mix, 1 package of Focaccia Mix, and 1 package of Cinnamon Roll Mix.

***A street address is required for delivery.***
Standard shipping charges in the contiguous United States:
Orders of $75 or more: $0  /  1 case: $16.00  /  2 cases: $18  /  3 cases: $20
To check out the ingredients, as well as what Chebe is free from, go to each product's page.