No-Frills Pizza Crust Mix, 20 lbs bulk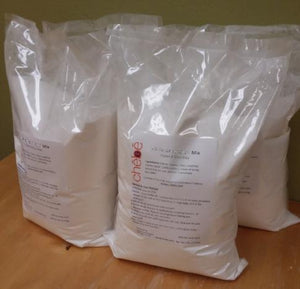 Orders that include this item will ship on or near 12/6/23.
Our Pizza Crust Mix in bulk form. Four 5 lb bags per case.

 ***A street address is required for delivery.***

Free shipping on this item!
We only ship to addresses in the contiguous United States.
Ingredients: Manioc (tapioca) flour, modified manioc starch (100% manioc), iodine-free sea salt, oregano, onion, garlic.
Chēbē Pizza Crust Mix is FREE of: corn*, dairy*,  egg**, gluten, iodine, peanuts, potato*, rice*, tree nuts*, soy*, sugar, yeast.
* made on shared equipment with this ingredient (under strict cleaning process/ allergen control program)
** egg or egg substitute added to the mix
Chēbē Pizza Crust Mix is friendly to lectin-free, and paleo diets!